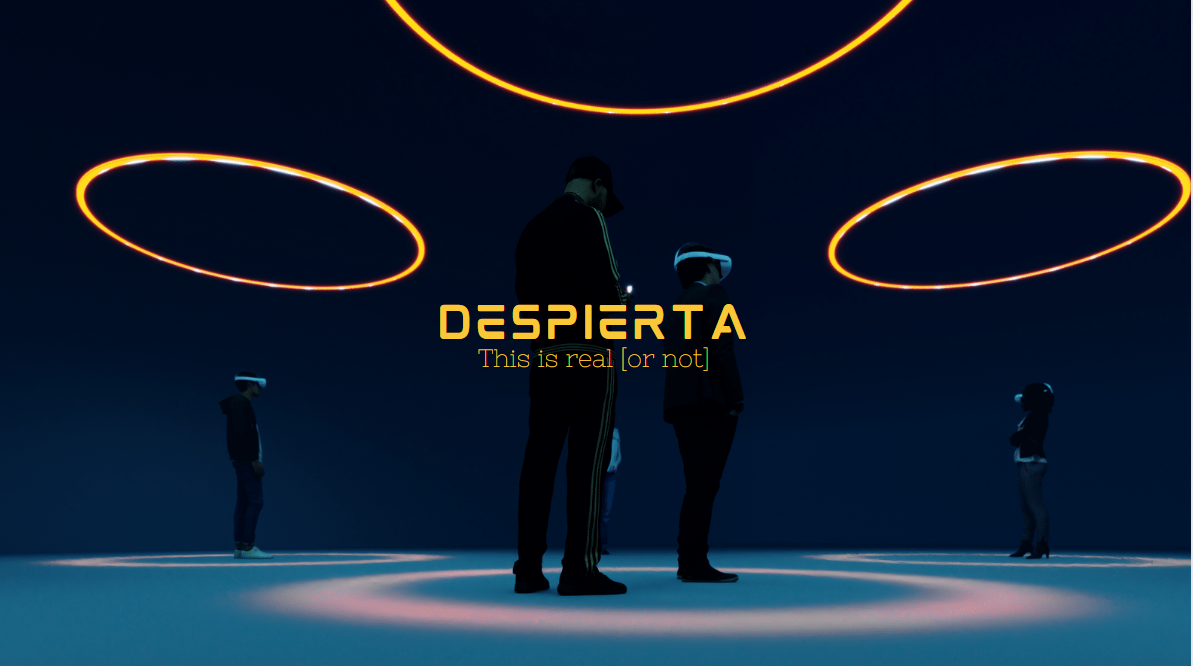 NUBIA LAB
OVERALL
NUBiA LAB consists of a residency program of local artists/creatives to devise, develop and produce metaverse projects. These projects will have the opportunity to join the nubia.world platform
The creation process will last for 1 month in which participants create different experimental prototypes of Metaverso and other realities in teams of 2, 3 people. NUBiA has development technology, as well as a mentoring process with experts and teachers in the sector. Select 6 local artists/Creatives from a call promoted via social media. The residence will take place at ESPRONCEDA Institute of Art and Culture and will have all the services necessary for the team's possible stay during the day.
The aim of Espronceda Institute of Art and Culture has always been to create a secure environment to develop Metavers projects and immersive experiences, which is why, on 9 November, the NUBiA Lab call was opened to invite new artists and creative people selected by a professional jury to join the platform.
Until 21 November the call was open to everyone, from Espronceda we are fully in favour of inclusion and parity. To give more information prior to potential residents, we posted everything on our website. All bases and assessment criteria, as well as prizes or sizes can be seen in the following link prior to registration: https://nubia.world/open-call-nubia-lab/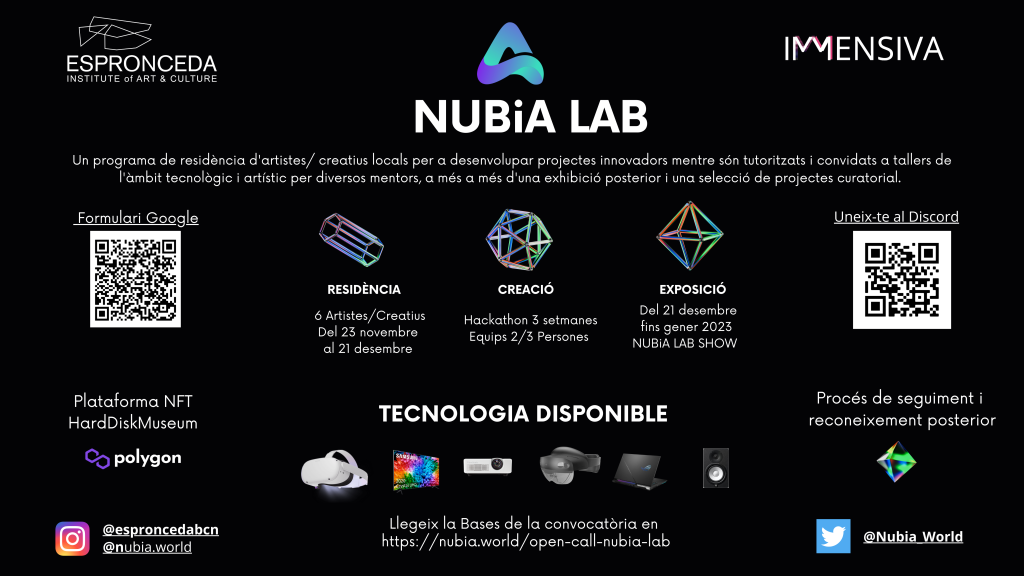 The ultimate goal in relation to the sample that was the generation of new metaverses projects that are innovative between the physical and the digital and put to them was not to make an exhibition of the project in its entirety, as it was still something experimenting, so the purpose was to create a small sample of the project that would show the project's soul. It was a challenge for the residents, but they eventually succeeded.
Finally to present a professional jury in relation to the metaverso. Show prototypes in Espronceda Institute of Art and Culture and then support the fully production of selected project.
TALKS AND PROMOTION
In order to attract a more objective audience, like university students, we went to different universities such as La Salle and University of Barcelona ENTI to do informational talks about residence by offering the opportunity to join and showing the objectives.
Below is an exponent image in La Salle.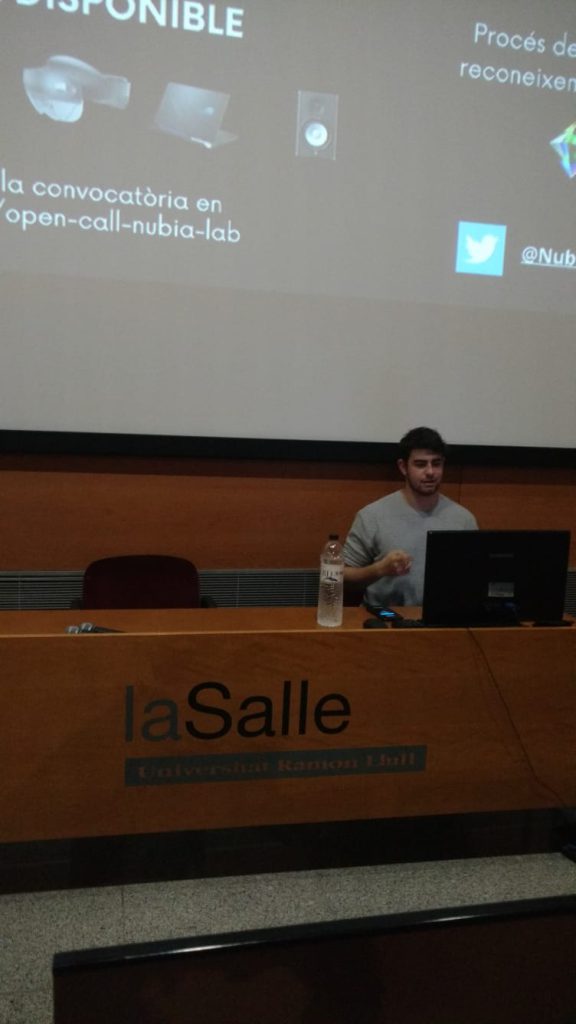 ---
It is very important for us to be transparent in inviting artists or creative people to our circles, which is why, in addition to the web, we show all the content in a visual presentation. In the following link we will see the presentation or pitch deck that was used to present the various universities and conduct the advertising campaign. https://www.canva.com/design/DAFSAQhMp54/s1OEf1m61QW0VyVnw2S3KQ/view?utmcontentcontent=DAFSAQhMp54&utm/campaign=designshare&utmmemedium=link2&utm_source=sharebutton
In order to help residents, NUBiA Lab already has technology material for creating liminal spaces. At all times we have not limited the idea for technology; indeed, this is one of the reasons why we awarded a EUR 400 scholarship for each, so that they would not be limited to the technology that the Espronceda gallery had, but so that they could buy or create new ones that fit into the project.
---
SELECTED ARTISTS
For the sake of co-creativity and multidisciplinaryness, we chose 7 people with different skills within the field of creation. Below, we can see an image presenting the final residents: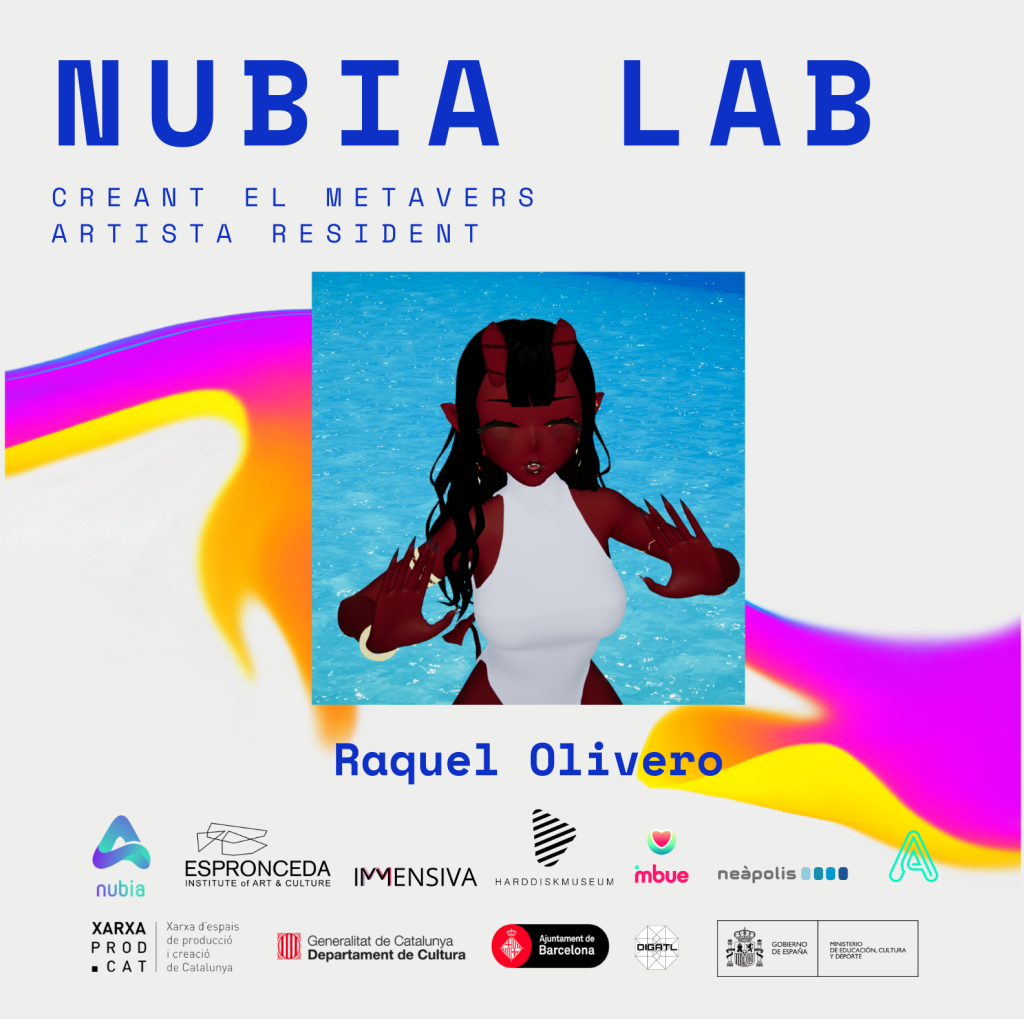 My name is Raquel Olivero I study at ENTI university of new technologies in the field of video games and all its associated art. Currently, I have no specialization, but I show great interest to get into the fields of motion capture, special effects and metaverse among others.
I know 3D modeling, animation, creation of characters, scenarios, even that I am able to introduce myself in many more aspects of the artistic field. If a passion for me is the use of VR in immersive platforms such as VRCHAT, I believe in the double reality that can be experienced through such technology and the possibilities that open us as people.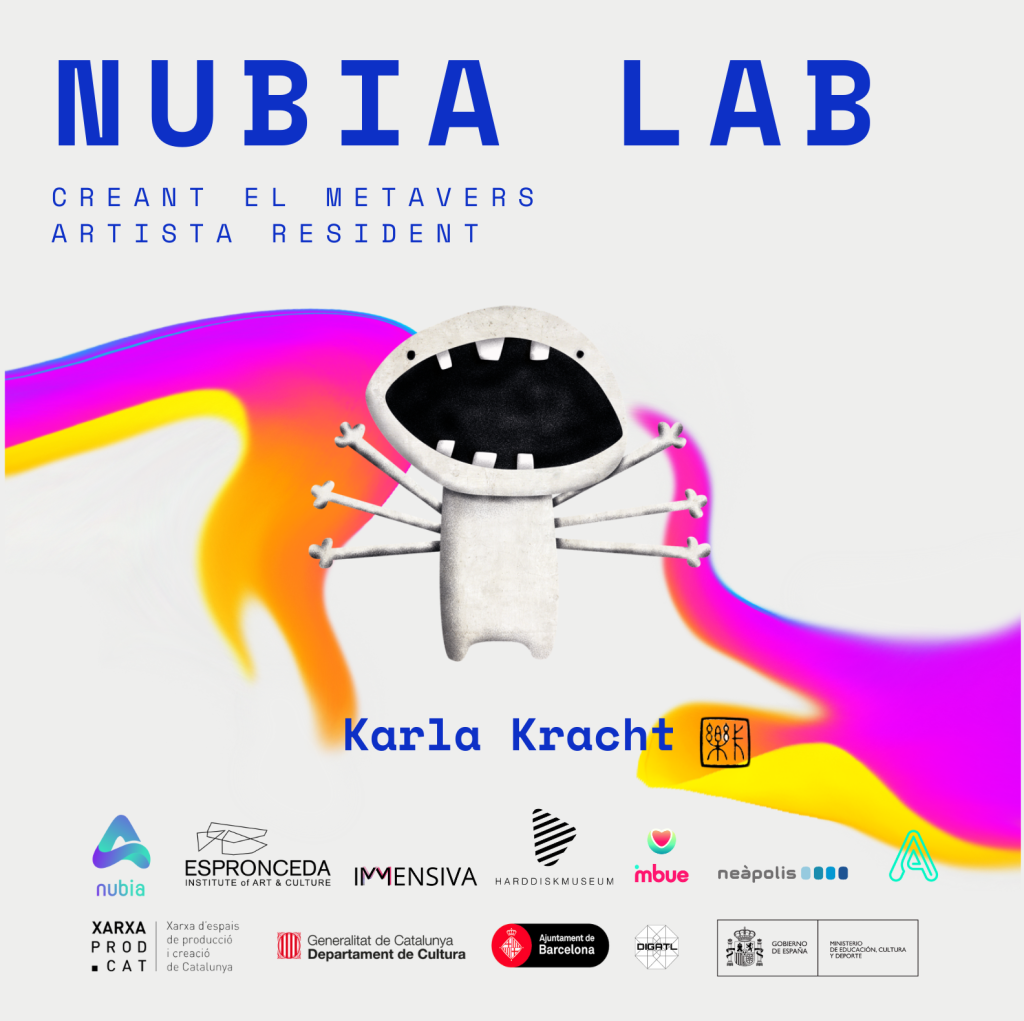 Karla Kracht reside en Barcelona y trabaja mundialmente.
He creates techno-retro-futuristic sculptures, where the boundaries between the drawing line and his digital reflection are totally fused. Combined with live video recordings, drawings and projections of shadows, light and animation, it creates bizarre universes full of strange creatures, miniature cities, inhabited by mythological cyborg goddesses who tell science fiction stories about current social and political problems.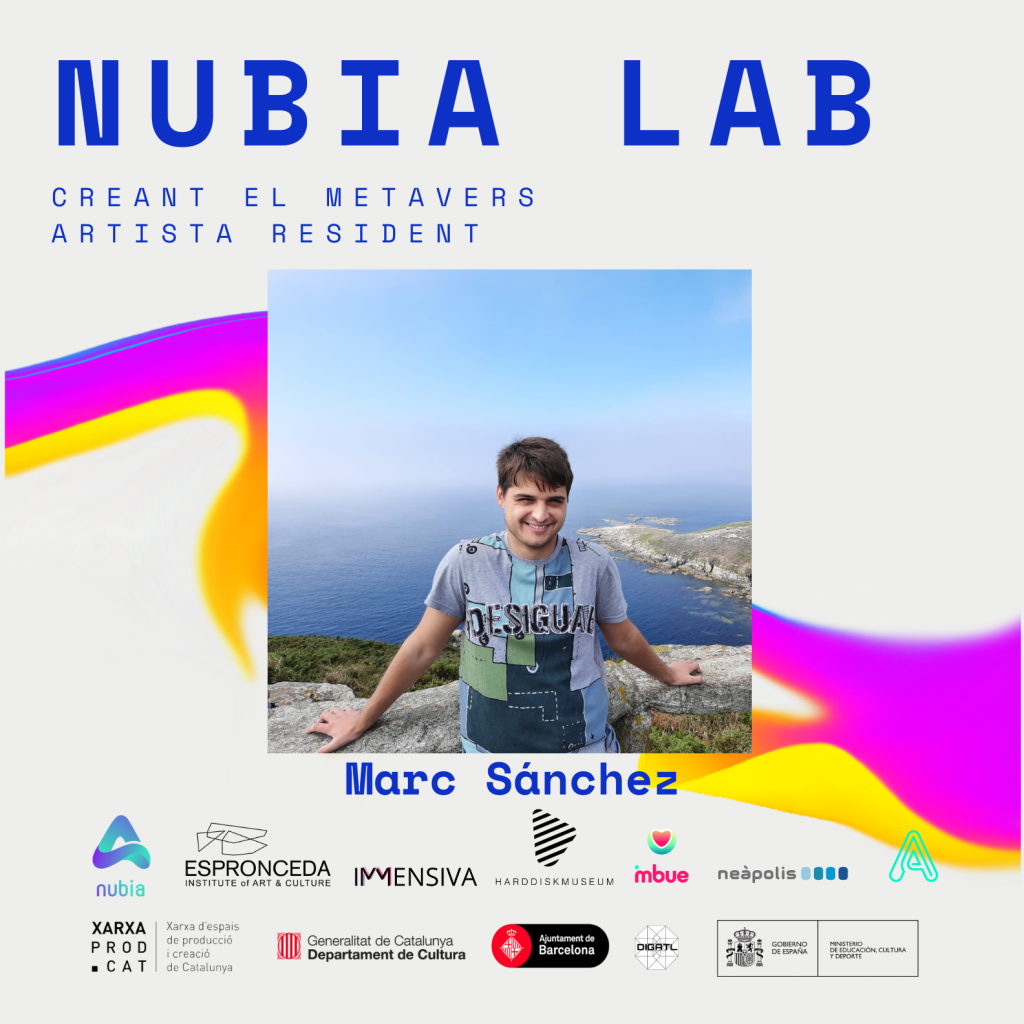 Hi, I'm Marc Sanchez, I'm 23. I study in Enti a university career of new interactive technologies that is in Barcelona and I am in the artistic degree for video games. One of the reasons why I have installed myself on the Nubia platform is because of the desire to try new experiences and because it is of higher priority to learn it for the future. This could help me move forward in the world of creativity in order to create innovative projects.
The reason why I am studying in the art world is thanks to Disney and Pixar two of
the biggest companies of the most recognized animated films in the world, because
I have always been captivated by his films since childhood, by the design of the characters and the
2D and 3D animation.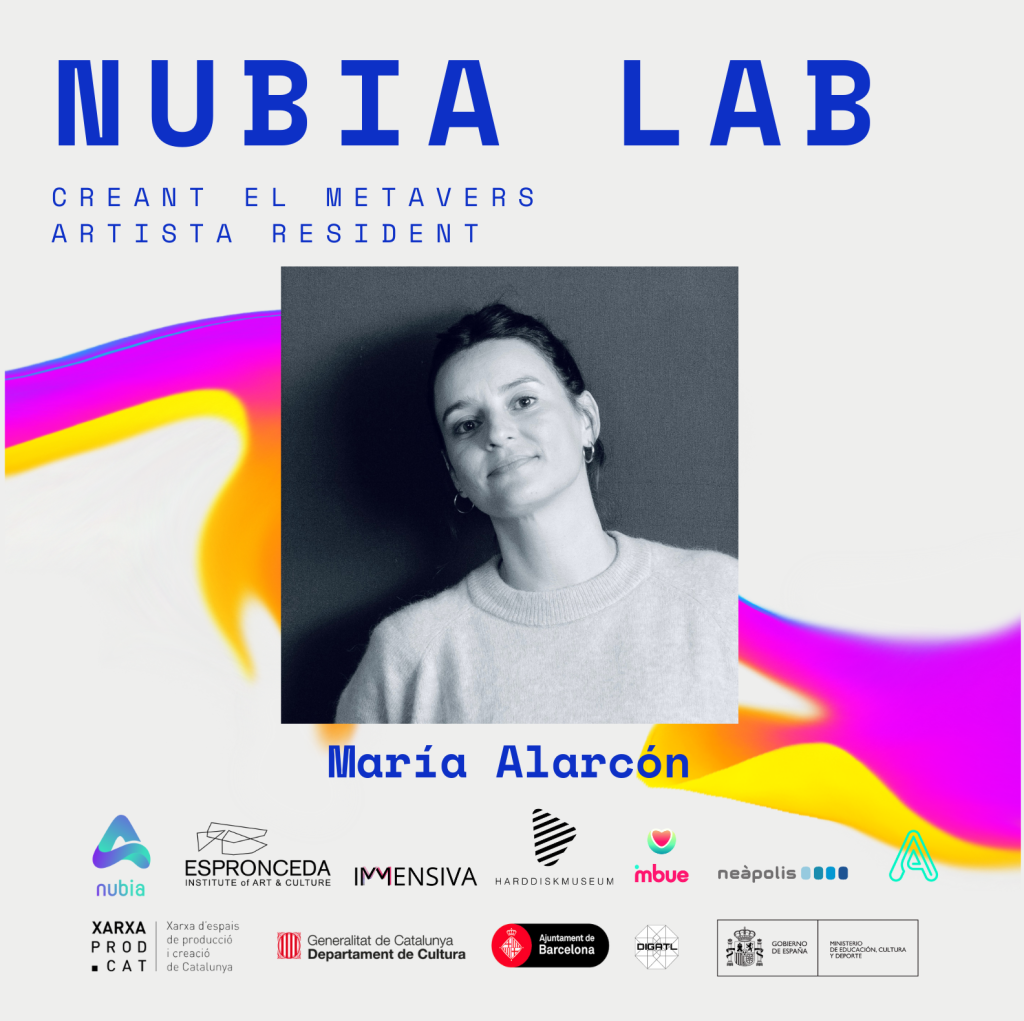 María Alarcón is an Architect, Digital Architect. With a career of more than seven years performing architectural visualizations. What he loves most is creating digital spaces, transmitting the desire to be there, and experiencing it. Here you can see what mariaalarcon.es likes to do
He is currently working on a personal project part.digital a collaborative virtual space where to experience spaces and tours in Virtual Reality or 360.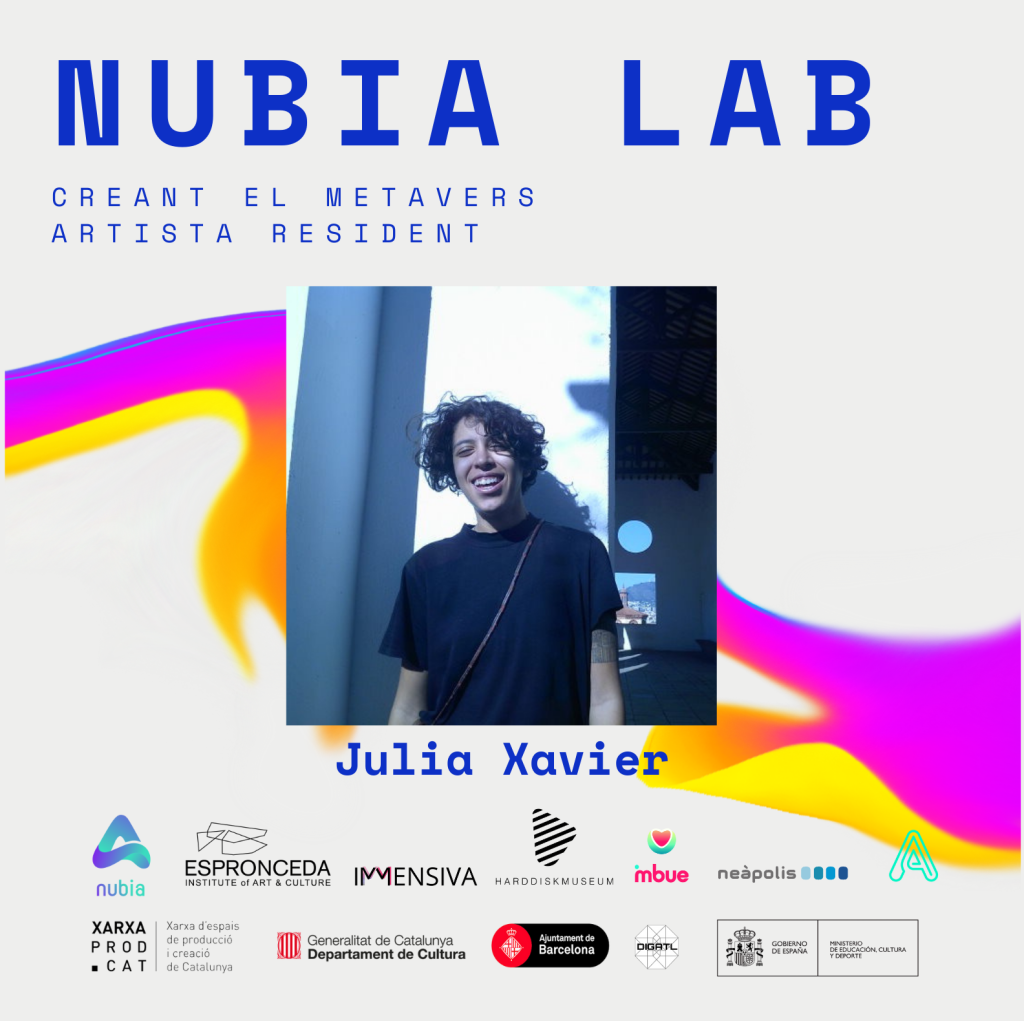 I like to apply design thinking and the user-centered approach to Arts and Culture, producing very interesting projects like Samamba, a cultural event that aims to deepen human connection through the arts, gaming and interactive technologies. I create designs and strategies for artists, musicians and DJs, as well as for parties and cultural events. I also work as a user experience designer for fintechs, health apps and large customers such as the food delivery platform JustEatTakeaway.com.
Last but not least, I write, produce and interpret spoken words and I love to explore and create with new technologies such as 3D, augmented reality and virtual reality to create arts and design immersive and interactive experiences for the art and culture medium.
https://www.instagram.com/xuliaxav/ https://linktr.ee/xuliaxav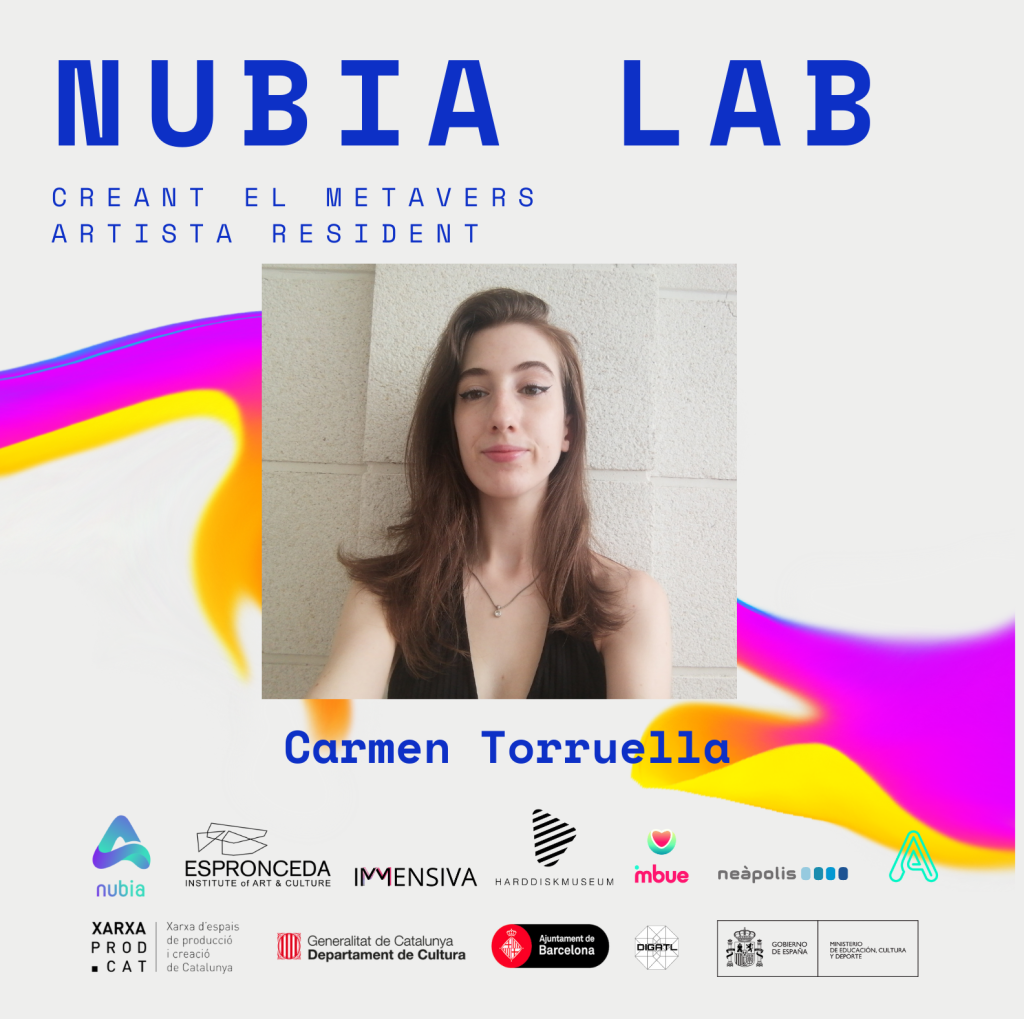 Carmen, conocida como Yuno, es una artista tradicional y digital de Barcelona. Estudiante de Artes Digitales y con un pasado en el ámbito de la animación, la creadora basa su arte en la experimentación, trabajando con técnicas y estilos diversos y tratando temas alrededor de la naturaleza, la cultura visual y la identidad.
@yunoarts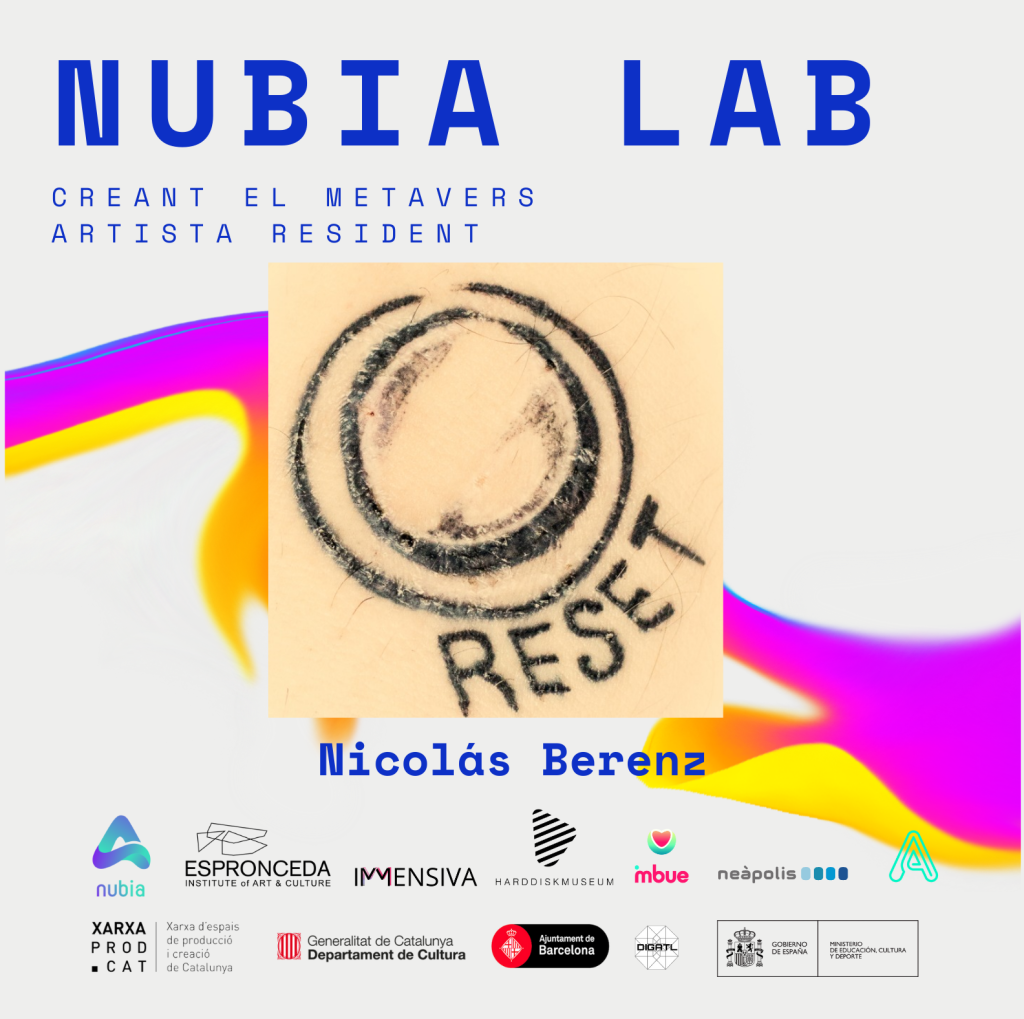 Nico Berenz (1982 – Mar del Plata – Argentina actually based in Barcelona) is a Filmmaker and Video Editor | Motion Grapher by profession, and a part-time multimedia artist and researcher, currently seeking to transcend classical narrative through new technologies in new production environments.
---
WORKSHOPS AND IDEATHON
We gathered all the residents on 23 November at Espronceda Institute of Art and Culture to be able to present and meet with each other, also to give the entrance to the first workshop. The workshops were a total of 4, three were in-person, in the Navas neighborhood and an online end for Zoom. All were recorded and published on our YouTube channel and advertised on our Discord. We also created a Whatsapp group so that they could be connected at all times and start deciding co-creation groups. The schedule for most workshops was 16:00 to 18:00, in order to influence as many people as possible.
There are all the sessions:
On December 12, an IDEATHON was organized so that the participants could finish consolidating the ideas and present them to the mentors we invited. Among the mentors we could observe:

Following live video from IDEATHON session:
---
IMAGES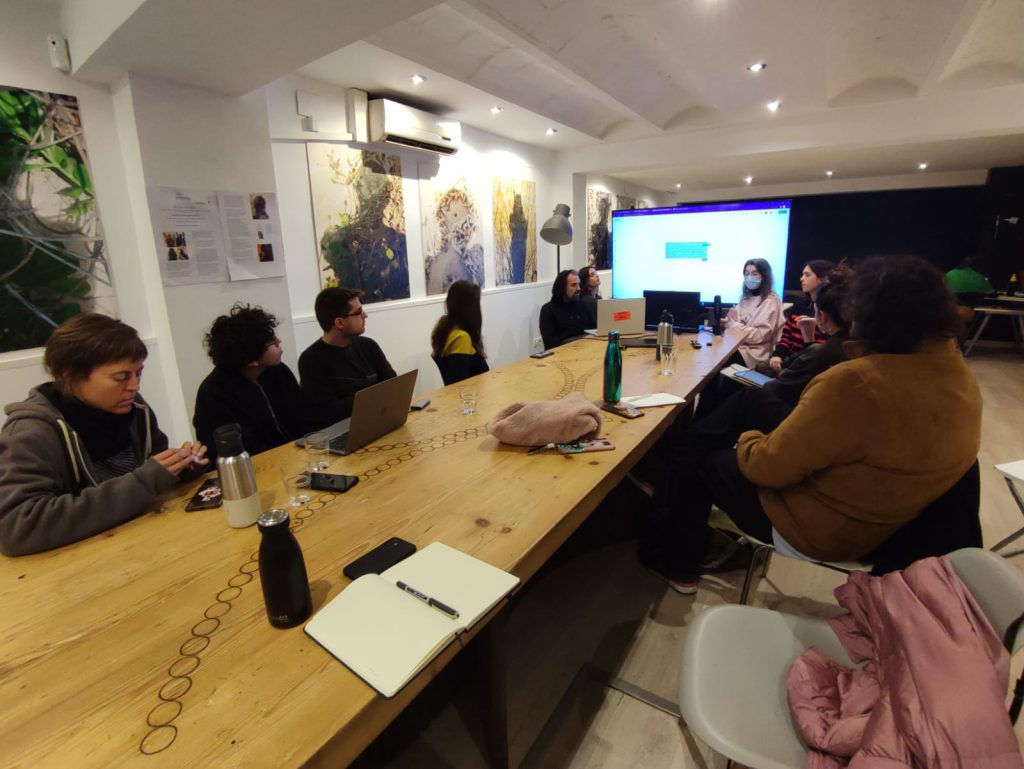 FINAL PRESENTATION & EXHIBITION
The final presentation was made online, via zoom on December 21. The projects of the participants made a very positive change since the IDEATHON event. The final jury to decide the winner was the same as in IDEATHON, with the addition of Alejandro Martin, the director of Espronceda.
The exhibition was held on the same day as the final presentation, 23 December. The ultimate goal in relation to the sample that Sels put forward was not to make a full exhibition of the project, as it was still an experiment, so the purpose was to create a small sample of the project that would show the project's soul. It was a challenge for the residents, but they eventually succeeded.
PROJECTS
DESPIERTA: This is real [or not]
5 VR spaces of circular format of 3m diameter each, equipped with glasses Oculus or similar, where experience different experiences with a playful imprint, reflecting on the premise "Creating the Metaverse…"
Through augmented reality, the signage of the room and the information of each work, they can be exposed in a non-invasive way and maintain the minimalist proposal of assembly.
In order for the "metaverse" to be a reality of everyday life and experienced on a large scale, all of the above must be resolved, and many more challenges will arise in the process.
In a playful and artistic way, without neglecting the possibility of a deep analysis of each episode, the Sensations Group presents a set of experimental solutions to everyday problems not yet experienced.
Each space seeks to enhance or stimulate different senses through VR and generate a response in the user, thus having an analysis of the different challenges faced by the human being in this transition from living to a more virtual than real world.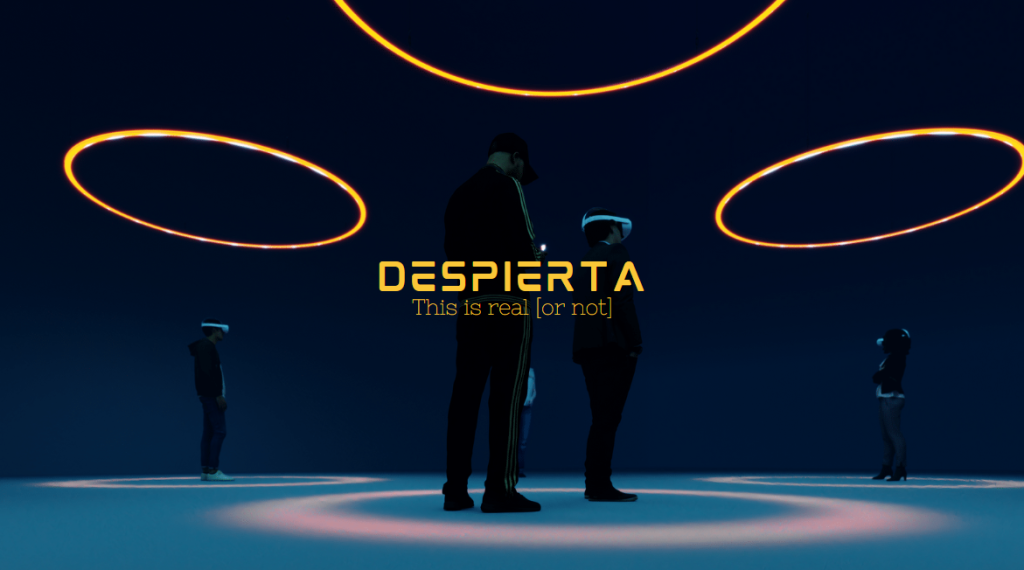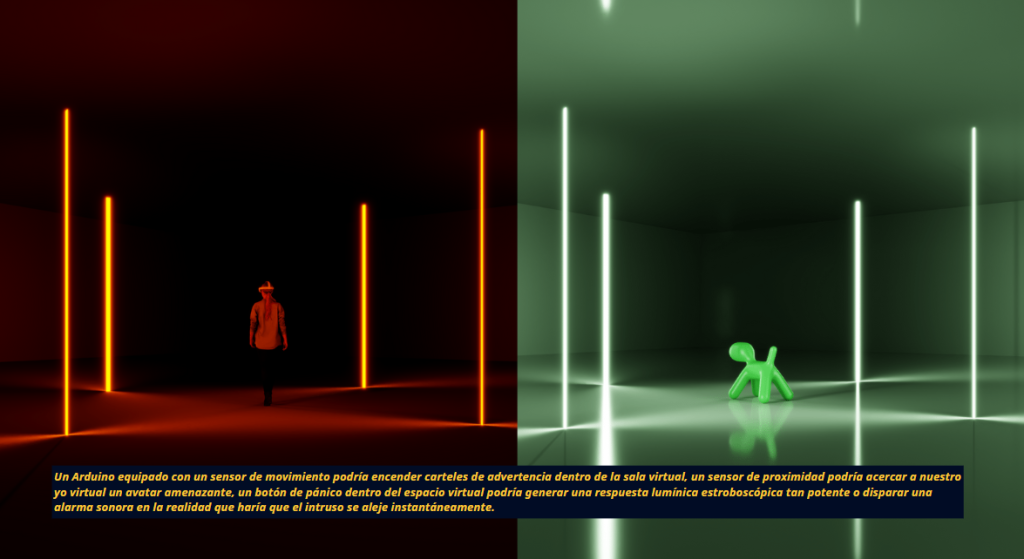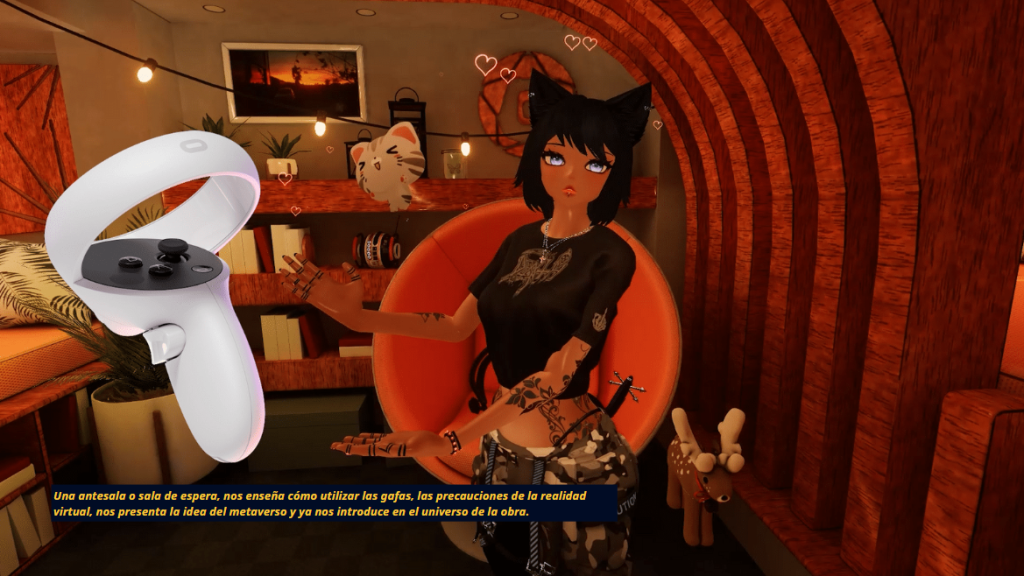 Inside out: Divine Cyborgs
What if you could be part of a series of works of art, if only for a moment? This is what INSIDE/OUT proposes to its visitors.
Exhibition Desiger Xav Xavier, 3D Artist Marc Sanchez and Multimedia Artist Karla Kracht have collaborated closely to create INSIDE/OUT "Divine Cyborg", an interactive mixed reality exhibition that invites you to immerse yourself in the artistic universe of "Divine Cyborg", a series of futuristic artworks created by artist Karla Kracht that mixes traditional techniques with electronics, character creation and storytelling.
The 4 proposed rooms are designed with the mix of storytelling, set design, augmented reality, sound design and mixed reality, in order to increase the immersion levels of visitors.
However, this is not your typical solo exhibition. In INSIDE/OUT DIVINE CYBORG, visitors play an active role as the last human survivors and have a mission to accomplish: explore an ancient tomb full of cyborgs to understand how these strange and mystical cyborg creatures live and all their rituals in order to try to find a way to revive humanity. Throughout the experience, visitors need their phones and virtual reality goggles to gather information about all the hidden secrets surrounding Divine Cyborg's artistic universe in order to try to fulfill their mission to save humanity.
So, are you ready to be part of Divine Cyborg's excavation team?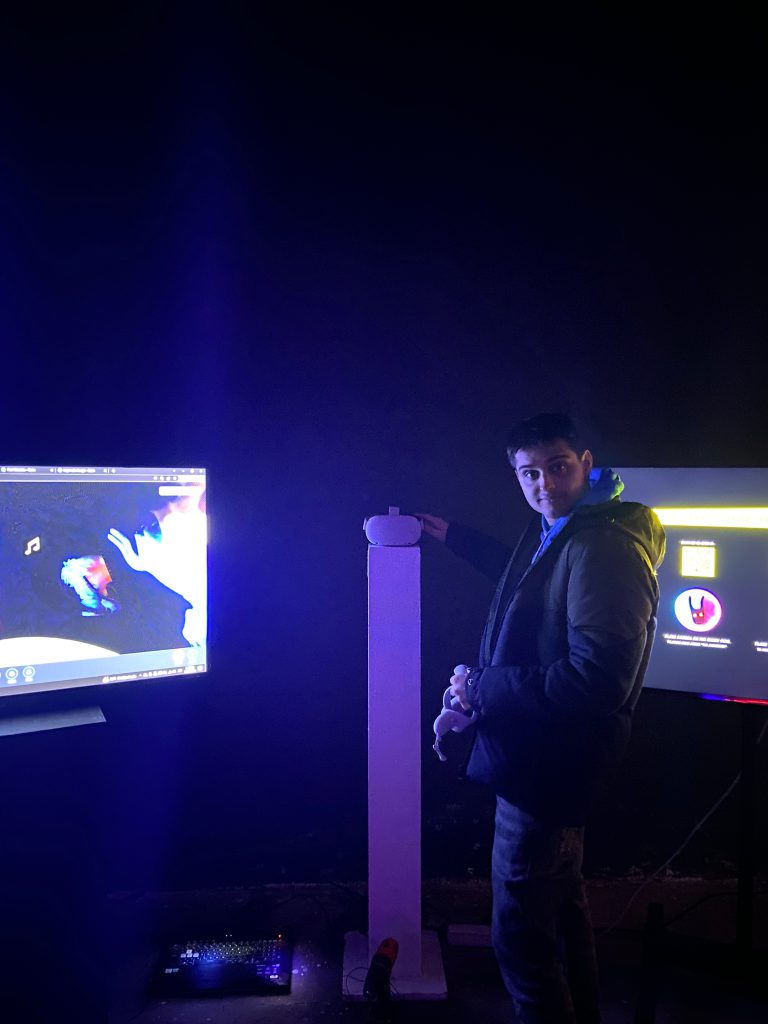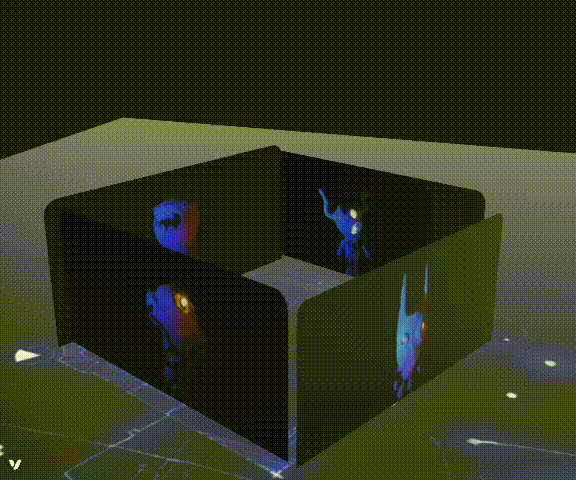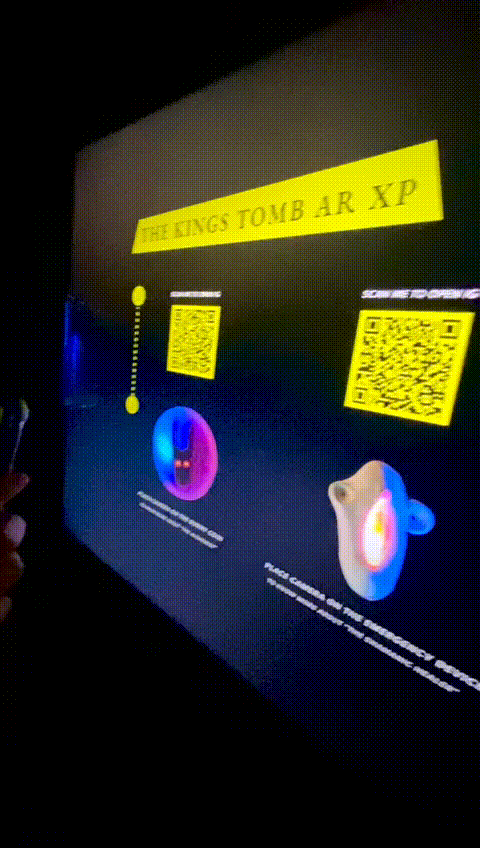 ---